M-I-C (See you real soon! ) K-E-Y (Why? Because we like you!)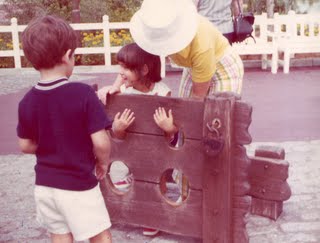 We made it back. All in one piece. Oh, you didn't know we were gone? Disney World! I have to say, it was a really great Disney adventure, and I was truly sorry to come back. I think that Disney is one of those places where you either go as a stick-in-the mud "I hate this bullshit" attitude or you just suck it up and drink the Kool Aid. And you all remember the family motto. I sucked it up. I drank that Kool Aid and I asked for seconds!
I'm truly tired and don't think I can blog everything at this moment, so I'll hopefully add more later, but it was an excellent trip. But a few of the highlights, which may be repeats for those who are Facebook friends:
--The trip started a little ominously when we checked in at home for our JetBlue flight and then brought our bags to drop off. Now, we usually fly American. We're used to this drill. With American we usually drop our bags at curbside or head to a kiosk. JetBlue? Not so much. The line for bag drop stretched longer than the hour and ten minutes we had till our flight. In a panic, we decided to take our bags on the flight. Only of course we had packed all our toiletries and TSA decided to be sticklers on the gels over 3.5 ounces or whatever the ridiculous rule is. Out went Adam's hair gel, out went my shampoo, out went my $40 face cleaner (that sounds much better if you read it to the tune of "Rock Island" from
Music Man
. Here, I'll even give you the next line: Look whatayatalk. whatayatalk, whatayatalk, whatayataalk, whatayatalk?). And then, of course, the TVs on the flight weren't working. Fun times!
--Our family was following the certified, patent-pending Goldfarb System®. I don't want to give too much of the system away, but it is a fool-proof method for doing the Disney parks in the most efficient and line-preventing way. I will testify that the Goldfarb System® works. But... only if you follow it to the T. The first day I got cocky. I thought I could figure out a few shortcuts to the Goldfarb System®. But I was wrong. And I paid in a big way, with a screaming daughter and a son who waited in line for thirty minutes for the Astro Orbiter. The next day I followed the plan to the letter and had an immensely successful day. Day three, we had the system perfected to the point where my son had a mere five minute wait for Toy Story Mania, got to ride Star Tours... twice, and still got to have another go at the Buzz Lightyear ride. Yes, the system is that good.
--We had characters up the wazoo. First Pie met Cinderella, Belle, and Aurora in Toon Town. Then we had breakfast with Cinderella, Belle, Aurora, Ariel, and Snow White. Then another breakfast with JoJo, Goliath (from
JoJo's Circus
) and Leo and June (from
Little Einsteins
). Then dinner with Chip and Dale, Mickey and Pluto. Plus we ran into Goofy, Daisy, Donald Duck, and Minnie around the parks. We also caught glimpses of a whole bunch others. But that girl of mine, she can hold a grudge. Our final dinner, at the Garden Grille in The Land, Dale, Mickey, and Pluto came to our table. But not Chip. "When is Chip coming? I want to see Chip!" She would not be put off. "There's Chip! Why isn't he coming to see us?" Finally we left without Chip. She shook hands with Pluto, flirted with Mickey, had her picture taken with Dale. So I asked, "How did you like dinner?" "It was awful!" she told me. "Chip never came to see us."
--Most exciting thing for girl? When Belle noticed that her skirt had "Beast print" on it. (Why more about the girl than the boy? Because for much of the trip we split up and I spent most of my time with the girl)
--New form of torture? My mother and daughter singing "It's a Small World" over and over and over and over... and over and over and over... (deep breath) and over and over and over. And then not understanding why I wanted them to stop.
--The Wishes fireworks display was only a mild hit. I let Pie stay up late to watch it; Doodles decided to pass. We went with the Nana to watch the display over Cinderella's castle. Pie seemed to be into it, but later informed us, "I didn't like it. The
boom
s made my teeth shake."
--At the princess breakfast, you walk in and the first thing that happens is a picture with Belle that the family gets a copy of by the end of breakfast.
Me: I want a family picture with Belle.
Pie: I want to stand between Mommy and Belle!
Doodles: I want to stand between Daddy and the wall.
I'm sure I'll have more to say later. Or maybe I won't. That's the way these blogs fly. Now I gotta go have another swig of Kool Aid. Mmm, that's good!
1973, Disney World (which only consisted of the Magic Kingdom) is 2, the boy (my cousin) is 5, I'm weeks away from 5, my first trip
2010, Disney World is 39, The boy is 6, the girl is 4, their first trip